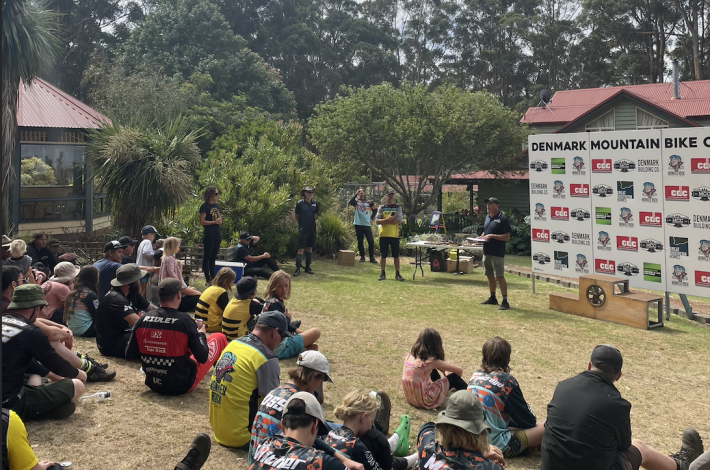 MEDIA RELEASE: Denmark locals dominate State Downhill
For Release 13 March 2023
The first round of the State Downhill Series was hosted by the Denmark Mountain Bike Club on Sunday 5 March and local riders dominated the podium that sat atop Lapko Rd.
Just under 100 riders from across the state made the journey to Denmark for the event now in its third year.
For many riders, this was their first attempt at the Downhil race format which involves a point to point course with an emphasis on technical skills rather than pedal power.
Denmark and Albany MTB Club made up a quarter of the field, with several of the members placing on the podium.
For the Denmark Club it was the local Devenport boys who dominated with both father, Nathan (Masters), and son Flynn (Under 13) winning their respective categories. Alistair Dickson took home the win in the Masters Category and Ruby Beckett won the Under 15 Womens. Local youngster Jy Drummond who had turned 13 just days before the race, finished an impressive third in his debut in the under 15 category.
Albany MTB Club rider Hamish Wilkes won the hotly contested Under 19 category, narrowly missing out on the overall fastest time of the day.
Following the official race on Sunday, the top 20 lap times across the categories were sent back up the hill to compete for the Monkey Rock Top 20 Dash for Cash. The times were tight, but it was Gus Kyme who took home the cash and the fastest time for the day.
Denmark Mountain Bike Club President said "this event is a great opportunity to showcase Denmark's mountain bike terrain to riders from across the state. Thanks to the property owners and sponsors, the event continues to grow from strength to strength."
The Albany Mountain Bike Club will host Round 2 of the State Downhill Series on April 23.
Denmark Downhill Final Results