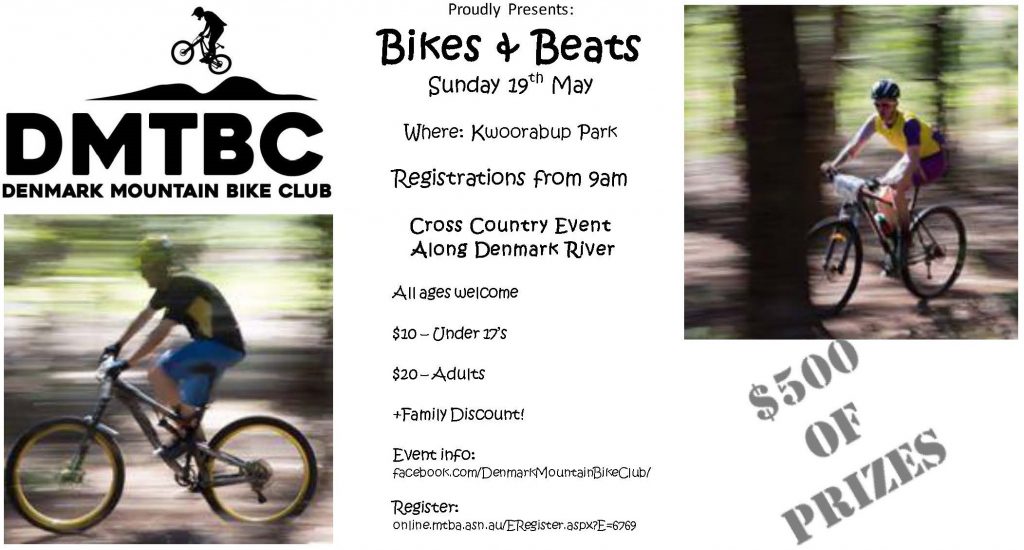 Registration Link :https://online.mtba.asn.au/ERegister.aspx?E=6769
The Bikes and Beats Cross Country is back, with many changes from last year. This year we are going with a standard cross country format and combining with Albany MTB Club (2019 Club XC – Round 2 : Denmark). This year's course is perfect for juniors and adults trying mountain biking for the first time, but will give a good work out for the more serious riders.
When?
Sunday, 19th May 2019
Sign in desk open : 0900
Under 11s and 13s
Race Briefing : 0930
Race Starts : 0945
Under 15s and Above
Race Briefing : 1045
Race Starts : 1100
Presentations : 1245
What?
The race will be a series of laps around the Denmark River starting/finishing in the Kwoorabup Community Adventure Park. One lap is 4.8 kms.
The number of laps will depend on the division you are racing in, and are as follows;
Men's 'A' – 8 Laps
Men's 'B' – 7 Laps
Men's 'C' – 6 Laps
Women's 'A' – 6 Laps
Women's 'B' – 5 Laps
Intro to MTB – 4 Laps
Under 17s – 5 Laps
Under 15s – 4 Laps
The above distances are aimed at providing 1.5hrs of racing per grade.
Under 13s – 1 Laps (approx 25 minutes)
Under 11s – 1 Laps (approx 35 minutes)
Entry Fees:
$20 for Mens and Womens – all grades
$10 for Under 17s, 15s, 13s, 11s.
Family discount of $20 (2 Adults and 2 Children/ 1 Adult and 3 Children) when all registering together.
Free entry for participants who can provide a marshal/volunteer. Contact admin@denmarkmtb.com.au for a promotion code (gives free entry via registration) if you can provide a marshal.
Please note if you are not a MTBA member you will need to pay insurance for the day. MTBA are still offering 2 months free membership at https://mtba.org.au/join for those who have never been an MTBA member.
Alternatively you can sign up for an annual MTBA membership – a portion of each membership fee goes to the Denmark Mountain Bike Club, helping us run more events like this, and to purchase much needed equipment!
Who?
Open to anyone age 5 or over! Riders 17 years old and over should pick a grade appropriate to their skill level.
If you're new to cycling, or a bit nervous about mountain biking, we are offering a shortened version of the race so that you can have a go! Course will be the same, but over a reduced time frame.
Where?
Kwoorabup Community Adventure Park, Jon Glade, Denmark WA 6333.
Please be courteous when parking, and pay attention to volunteers, and respect other people using the park. Also, even though it looks tempting, the Denmark Shire has requested that bikes are not to be ridden in the the nature play area.